NEWS
The latest Pedestal Mount LED Work Light Released by Larson Electronics
14-09-2013
The WAL-PM-150LED work area LED light from Larson Electronics provides operators with a powerful and easy to deploy source of lighting capable of effectively illuminating 9,500 square feet of work area.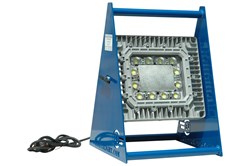 The WAL-150W-PM portable LED work light illuminates up 9,500 square feet

This portable work light features a 16 inch LED lamp assembly that produces 12,000 lumens of light output in a wide flood pattern from only 150 watts of power use. The light produced by this work light is evenly dispersed and has a 6,000K color temperature, making it much cleaner and whiter than light produced by incandescent work lamps which typically have a yellowish color to their light and irregular beam dispersion.

The LED assembly is fabricated from high strength aluminum with an unbreakable lens for the utmost in durability and is highly resistant to the effects of damaging impacts and heavy vibrations commonly encountered in work areas. The LED lamp is vertically adjustable for better control, and is secured in place with thumbscrews located on the sides of the fixture. This portable light is far more durable than standard incandescent work lights thanks to its solid state lamp design, and provides 60,000 hours of lamp operation, 60 times more than a typical 150 watt halogen work light. The base is also formed from aluminum and features an integral carry handle and wide base for easy transport and high stability when placed in the desired location. This unit also includes 25 peel off protective Mylar lens covers that provide added protection against lens scratching and debris accumulation.

An included 100 feet of heavy duty SOOW cord with straight blade plug provides plenty of length for moving the light around large work areas. The WAL-PM-150LED is ideal for workers who need to illuminate large work spaces but require lighting that can be easily transported and set up without the need for bulky stands or complex hardware.
>
Share to the following social media
>